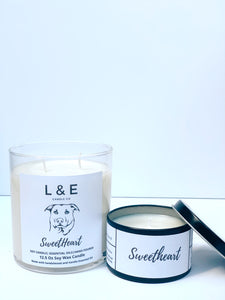 Sweetheart Sandalwood and Vanilla 4oz Candle
Our Travel Size Candle allows you to take our candle on the go or test our scents before purchasing more.  

Sweetheart is the sweetest smelling candle in our collection! Smells like a sweet vanilla cake! You and your pet will be hungry for dessert but also feeling relaxed with the hints of vanilla and sandalwood in your home.
In love!!!
So happy that I could finally find candles that I know are safe for my puppy and kitty! Absolutely in love with the smells! Definitely will be buying more!!
Sweetheart Sandalwood and Vanilla 4oz Candle