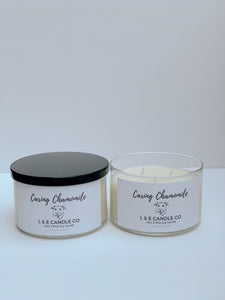 Caring Chamomile 3 Wick Candle
Hand Made and Hand Poured Caring Chamomile 3 Wick Candle
Made with 100% Chamomile Essential Oil. Chamomile is used to help calm stressed dogs. Is your dog stressed about guests coming over or socializing with other pets/humans? Chamomile can be helpful. Chamomile can also be used as an anti-inflammatory.
WAS 14oz, NOW 15 oz Candles 
FANTASTIC PRODUCT
I love this candle so much!!!! I can't stay without it anymore!!! 10/10
The candle smells wonderful but I cannot keep the wicks lit after the first time I lit them.
Takes the edge off
I like to burn candles while I work, but the ones I have are too overpowering and I know it's not good for me or my dog. This one is light, soothing and I don't have to worry about it causing harm to my best friend!
Order
I loved the candles I ordered, I'd definitely choose these candles rather than bath and body candles for sure! As well they are definitely great to light up since I have dogs!
Very soothing!
I bought the Chamomile candle for my pup who has inflammatory issues and it smells great! It has a nice calming sent to it. 😊 Warning to my fellow Canadian buyers however: I bought 2 candles and once they both arrived at my door, UPS charged me an extra unexpected $38 for delivery.