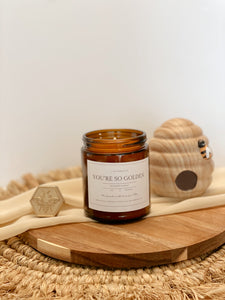 Beeswax Chamomile "You're so Golden" Candle
We named this Candle "You're So Golden" after Everest's two best friends and uncles Rey and Diego. Two Golden Retrievers so full of life. Hope this Candle can bring some light in your life with your best friend next to you. 
Beeswax has a natural sweet honey scent, is a natural air purifier and Environmentally the best candle. It is the only carbon neutral candle and a Mood enhancer.